Classroom News
Please click the picture below to place your book order with Scholastic! (Our class code is: HWKJG)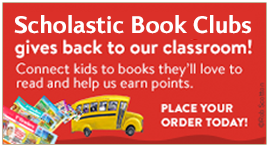 Keep up with all the news and happenings at Maternity BVM via our new Facebook and Twitter pages! There are new updates, pictures, and postings every day!

FACEBOOK: Maternity BVM School
TWITTER: Maternitybvm1
May News...

*Wednesday, May 1st - Progress Reports published

Friday, May 3rd -- First Friday Mass w/ Peacemakers; Electives for all students; NOON DISMISSAL

Tuesday, May 7th -- May Procession at 7:00p.m. in Upper Church

**CARNIVAL WEEK IS MAY 13TH - MAY 18TH!**

Friday, May 17th -- 1:00 Dismissal with Talent Show!

Tuesday, May 21st and Wednesday, May 22nd -- Tuition collection

Thursday, May 23rd -- Band concert

Friday, May 24th -- 1:00 Dismissal with Spirit Day!

Monday, May 27th -- NO SCHOOL! Happy Memorial Day! :)

Thursday, May 30th -- NO SCHOOL! Feast of the Ascension

Friday, May 31st -- NO SCHOOL!



​




​